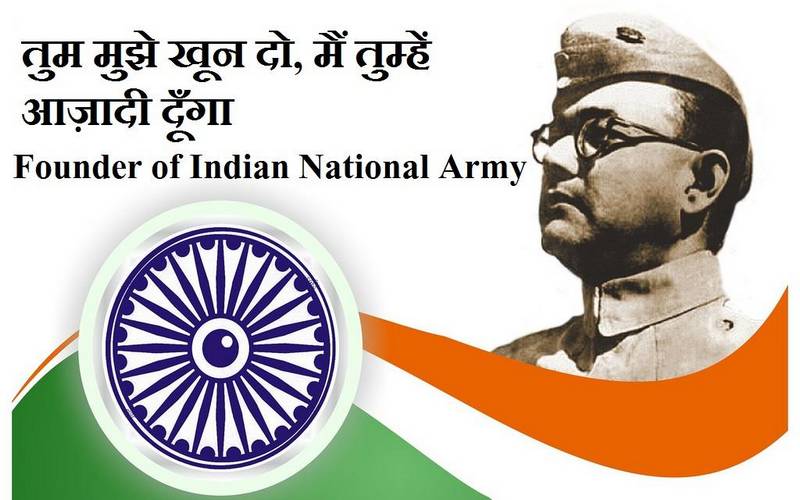 Subhash Chandra Bose was a great freedom fighter of India, He tried very hard to liberate the country from the British. Born in the Bengali family of Odisha, Subhash Chandra Bose was from a well-to-do family, but he loved his country and had given his entire life to the country.
Netaji Subhash Chandra Bose Biography

Name
Netaji Subhash Chandra Bose
Born
23rd January 1897
Birth Place
Cuttack, Orissa
Parents
Prabhavati, Janakinath Bose
Wife
Emily (1937)
Daughter
Anita Bose
Death
18th August 1945 Japan
Netaji Subhash Chandra Bose Initial Life
Netaji Subhash Chandra Bose was born in a Bengali family of Cuttack, Odisha. Netaji had 7-brothers and 6-sisters. He was the 9th child of his parents. Netaji was very close to his brother Sharad Chandra and His father Jankinath was a famous and successful lawyer in Cuttack. they got the title of "Rai Bahadur" Netaji Subhash Chandra Bose had a great interest in studies since childhood. He was very hardworking and a dear student of his teacher. But Netaji Subhash Chandra Bose was never interested in sports.
Netaji had completed his schooling from Cuttack. After this, he went to Calcutta for further studies, did his BA in Philosophy from Presidency College there. In this college, Netaji was very much opposed to the persecution of Indians by an English professor, at that time the issue of casteism was raised a lot. This was the first time that the war against the British started in Netaji Subhash Chandra Bose's mind.
"READ MORE"
Elon Musk, the World's Third Richest Man
Did you know? Who is the Owner of BigBasket?
Did You Know? Who Is the Owner of BYJU'S Classes?
Netaji Subhash Chandra Bose wanted to do civil service, due to British rule it was very difficult for Indians to go to civil service at that time, then his father sent him to England to prepare for Indian Civil Service. In this examination, the leader came in fourth place, in which he got the highest number in English. The leader considered Swami Vivekananda as his guru, he used to follow what he said. Netaji had a great love for the country and was concerned about his independence, due to which he rejected the Indian Civil Service job in 1921 and returned to India.
Political Life of Netaji Subhash Chandra Bose
Netaji Subhash Chandra Bose jumped into the freedom struggle as soon as he returned to India, he joined the Indian National Congress Party. Initially, Subhash Chandra Bose was the leader of the Congress party in Calcutta, working under the leadership of Chittaranjan Das. Subhash Chandra Bose considered Chittaranjan Das as his political guru. In 1922, Chittranjan Das, along with Motilal Nehru, left the Congress and formed his own party, the Swaraj Party. When Chittaranjan Das was working out a strategy with his party, Netaji Subhash Chandra Bose had made a special place among the young people, students, and laborers of Calcutta in the meantime. They wanted to see the subjugated India as independent India at the earliest.
Now people had come to know Subhash Chandra ji by name, the discussion of his work was spreading all around. Netaji Subhash Chandra Bose had come up with young thinking, due to which he was becoming famous as a youth leader.
In 1928, during a Congress meeting in Guwahati, differences arose between the new and old members. The new young leaders did not want to follow any rules, they wanted to follow their own, but the old leaders wanted to go ahead with the rule made by the British government. Subhash Chandra and Gandhi ji had very different views. Netaji Subhash Chandra Bose did not agree with Gandhi's non-violent ideology, he was a young man who also believed in violence. The ideology of both was different but the objective was one, both India wanted the independence of the country as soon as possible.
In 1939, Netaji Subhash Chandra Bose stood for the post of President of the National Congress, against whom Pattabhi Sitaramya was pitted by Gandhiji, who was defeated by Netaji Subhash Chandra Bose. Gandhiji had lost his heart due to which he was unhappy, knowing this from Netaji, and immediately resigned from his post. Due to the lack of ideas, the leader was becoming anti-Gandhi in the eyes of the people, after which he himself left the Congress.
Founder of Indian National Army
In 1939, when the Second World War was going on, Subhash Chandra Bose made his stand there, he wanted to get help from the whole world so that the British would be overpowered and they left the country. He got a good impression of this thing, after which the British Government put him in jail. He did not eat or drink water for about 2 weeks in jail. Seeing his deteriorating condition, the youth started raging in the country and demanded his release. Then the government kept him under arrest in Calcutta. Meanwhile, in 1941 Netaji escaped from there with the help of his nephew Shishir. First, he went to Gomah in Bihar, from there he reached Peshawar in Pakistan. After this, he reached Germany, via the Soviet Union, where he met Adolf Hitler, the ruler of that place.
Before joining politics, Netaji had traveled to many parts of the world, he had a good understanding of the country, he knew Hitler and the enemy of Germany was England, he took this diplomacy to take revenge from the British. It was appropriate to make friends with the enemy's enemy. During this time he married Emily of Australia, with whom he lived in Berlin, he also had a daughter, Anita Bose.
In 1943, Netaji left Germany and went to South-East Asia, which means Japan. Here he met Mohan Singh, who was then the chief of the Azad Hind Fauj. Together with the leaders, Mohan Singh and Ras Bihari Bose reorganized the 'Azad Hind Fauj'. Along with this, Netaji also formed the 'Azad Hind Sarkar' party. In 1944, the leader gave the slogan "Tum Mujhe Khoon Do Main Tumhe Aazadi Dunga" to his independent Indian National Army. Which brought a new revolution across the country.
Netaji goes to England
The leader went to England where he met the British Labor Party President and political leaders. He talked about India's independence and its future. He had also convinced the British to leave India to a great extent.
Death of Netaji Subhash Chandra Bose
On his way to Japan in 1945, Netaji's plane crashed in Taiwan, but his body was not found, and after some time he was declared dead. The Government of India has also set up a lot of inquiry committees on this accident, but even today it has not been confirmed even today. In May 1956, the Shah Nawaz Committee went to Japan to resolve the death of Netaji's death, but Taiwan did not help his government with no special political relationship. In 2006, the Mukherjee Commission said in Parliament that 'Netaji was not killed in a plane crash, and his ashes are not in the Renkoji temple.' But this was rejected by the Indian government. Even today, investigation and dispute are going on.
Netaji Subhash Chandra Bose Jayanti
Netaji Subhash Chandra Bose Ji was born on 23 January, so this day is celebrated every year as Subhash Chandra Bose Jayanti. This year in 2021, January 23 will be celebrated as his 123rd birthday.
"READ MORE"
How To Complain To The Prime Minister Online
How To Apply Pradhan Mantri kisan Maandhan Yojana
How To Apply Pradhan Mantri Kisan Samman Nidhi Yojana
Interesting facts about Netaji Subhash Chandra Bose
In 1942, Netaji Subhash Chandra Bose went to Hitler and proposed to liberate India, but Hitler was not interested in liberating India and did not give any clear promise to Netaji.
Subhash Chandra Bose Ji wanted to save freedom fighter Bhagat Singh Ji and also asked Gandhi Ji to break the promise made to the British, but they failed in their objective.
Netaji Subhash Chandra Bose had secured the fourth position in the Indian Civil Examination, but in view of the independence of the country, he took a big decision to leave this comfortable job.
Netaji's heart-wrenching scene of the Jallianwala Bagh massacre distracted much and could not deter him from adding himself to India's freedom struggle.
In the year 1943, Netaji was established in Berlin with Azad Hind Radio and Free India Central.
It was only in 1943 that Azad Hind Bank issued notes ranging from a coin of 10 rupees to 1 lakh rupees and a picture of Netaji Subhash Chandra Bose was also printed in the one lakh rupee note.
Netaji addressed Mahatma Gandhi as the Father of the Nation.
Subhash Chandra Bose was imprisoned 11 times between 1921 and 1941 in different confines of the country.
Netaji Subhash Chandra Bose was twice elected to the presidency in the Indian National Congress.
The death of Netaji Subhash Chandra Bose has remained mysterious till date and no curtain has been raised on this till date and even the Government of India does not want any discussion on this subject.