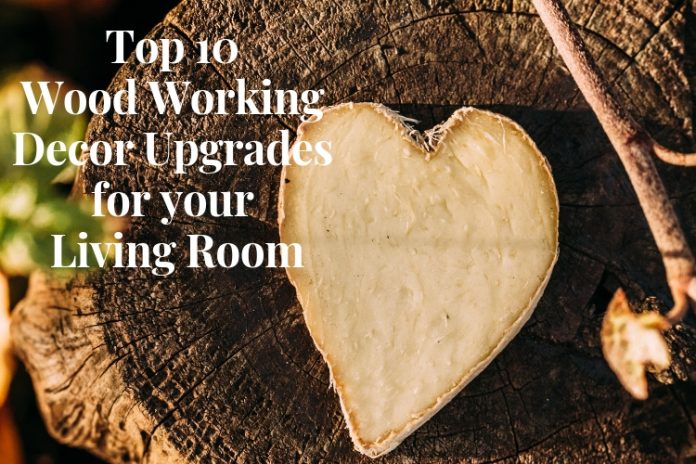 Adding few wooden décor upgrades to your living room or other part of your house will no doubt will be a great idea. The wood décor items are easily available and require low maintenance. The interiors of your house will be more charming and chic with amazing wood décor pieces. The best thing about wooden décor items is that it isn't necessary to be carved intricately.
If you have some kind of amazing sculptured wooden pieces you can utilize it as a décor item. You can also create some of them if you have any skills and trust me that will be great. I have made a small list of 10 wood working décor upgrades for your living room, many of these items can be easy bought from any top UK retail store and no doubt it is going to help you.
1. Hallow End Glass Table
This table can be created by using a hollow log. It has the simple design but can be proved the best conversation piece for your visitors and guests. This amazing hallow table consists a light placed at the bottom. The light illuminates the table and because of the glass, the light shine up through the whole table. The hallow end glass table will provide a incredible accent to your living room.
2. Log Splice Chalkboard
This could be the cutest wooden décor item in your home. The log splice chalkboard is so simply designed that even you can carve it by yourself at home. You will just need a thick wooden log. Just slice it using a seesaw and paint the centre with chalkboard paint. Hang it over the door or anywhere in your living room. Write lovely messages or whatever you like to greet the visitors. If you own a coffee shop or a restaurant then wooden chalkboard will be the perfect thing to write messages for your customers.
3. Wooden Vase
Mostly wooden vase are made by carving it completely from wood but this vase is different. The wooden vase listed here is different and made with a sliced wooden log. The vase is made with a hollow wooden log and glass inserted inside to hold the flowers. The colour and texture of the vase provides freshness to the flowers and contrast to the whole room.
4. Wooden Heart
This adorable wooden heart can be easily created by gluing sticks together. It's a simple wood décor and can be crafted by almost everybody. You don't have to be a skilled woodworker to create this wooden heart. This wood décor can be the best valentine gift for your better half. It will be exceptionally great to use this wooden heart in wedding and Christmas decorations.
5. Family Name Made With Sticks
Just like the wooden heart this wood décor item can be also created without much effort. Just layer twigs across the board and glue them together. Cut the board in the shape of a letter you want and trip the twigs after gluing. Make few couple of names with your family and children. Doing this will help you in preserving memories and best times in those wooden pieces.
6. Candle Holders
Wooden logs can be the best candle holders if carved excellently. If you have the right tools you can also create them by yourself. These wooden candle holders produce a charming texture to the living room. The lichens and moss present in the bark looks pretty and offers a natural touch to this wood décor.
7. Slice Wooden Wall Clock
This is something incredible piece of wooden work and will look dashing in the living room. The wooden wall clock will make your walls interesting from boring in a matter of time. The clock is unstained, blonde and crafted in a such way to provide ease of reading time. This clock is made by wood slices glued elegantly across a wooden board. If you are making it by yourself make sure to arrange the slices in a pleasing order. This clock contains only second, minute and hours hand which makes it minimalist.
8. Wood Embellished Wall Mirror
The wood embellished wall mirror is also carved by using log slices. The round mirror is accented with slices of branches and twigs. The log slices are varnished and sanded excellently to compliment the mirror attached. The wooden circles provide an intricate pattern and also offer excellent contrast to the living room.
9. Wooden Coat Rack
Provide your closet an extra natural look and texture with this wooden coat rack. Different sizes of wood slices are attached in the background of this amazing wooden coat rack. The irregular and different size of wooden circles gives the coat rack a different texture. A simple and stained wooden plank here used as the coat rack base. The wooden plank consist old fashioned coat hooks. This coat rack is a great home accent brings woody styled touch into the environment of your home.
10. Wooden Herb Hangers
This wooden décor item isn't for your living room; it is for your kitchen basically. The cute herb hangers will make your mini kitchen indoor garden more awesome. You can easily hand them on the walls and label the herb names on the slices by painting or engraving. These wooden herb hangers will great ascent to your farmhouse kitchen.
Final Thoughts:
Wood is the most versatile elements when it comes to the home décor kind of stuffs. Wood décor items can be used in almost every part of your house and if you are looking for few for your living room you may be overwhelmed because the list is really big enough.
Wooden art pieces can provide a completely different texture to your home. It can be used in various ways such as in book shelves, welcome boards, mirrors, lightings, candle stands, herb hangers, elegant tables, flower vase, coat racks, coasters, decorative items, sinks, wooden clocks, headboard, picture frames, kitchen shelves, name plates and many more.
These days' wooden décor items are coated with such chemicals and ingredients to provide longer life to the wood that's why you must make effort to include more and more wood décor items to your living room and other parts of your house.