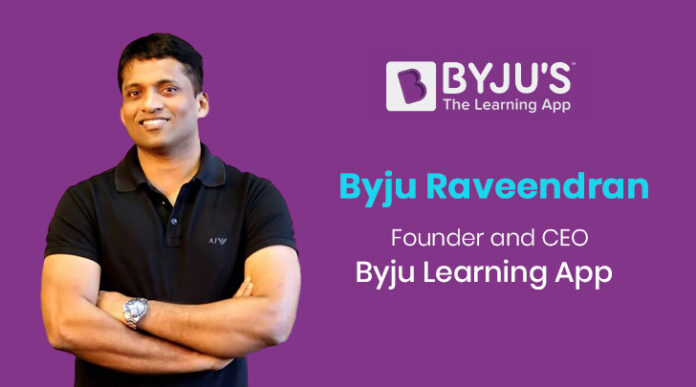 BYJU'S classes online are one of the most liked online classes in India. Here many types of quiz programs have also been made to explain the concept to children with the right giddiness.
BYJU'S traveled from the village to 37000 crores and built an empire of success. Yes, today we will know about such a person who has achieved that position today, it is not a matter of reaching everyone. Everyone sees dreams but only some of them can fulfill that dream.
You may also be wondering who is the person who did all this, so let's know who he is. In this article of Headline Insider today, we will talk about an owner of online learning whose name you all have heard. Today we will talk about the owner of BYJU'S classes who have made a mark in the world of online learning in a very short time.
Who is the owner of BYJU'S classes?
Before knowing about the owner of BYJU'S learning Program, we get to know about BYJU'S. BYJU'S classes is an online learning platform where you can prepare for IIT-JEE, NEET, CAT, IAS, GRE, and GMAT. It was founded in 2011 by BYJU Raveendran in Bangalore.
Now you all must have known that I am talking about BYJU Raveendram, the owner of BYJU'S classes here. Those who saw their company reached 37000 crores, and today the revenue of BYJU'S learning Program is about 2800 crores.
"READ MORE"
How did BYJU'S classes become a billion-dollar company?
Come, now we know the complete success story of this company, what did BYJU do to reach this company success.
BYJU Raveendram was born in Azhikode, Kerala. Today Raveendram is included in the list of 100 Billionaires of India. BYJU'S classes have also been named in the "Fortune Magazine" Under 40 in 2020.
BYJU was more interested in sports since childhood, though he had a good grasp of mathematics. After completion of school, he studied engineering and also started working in a multinational company, due to good mathematics, he used to help his friends in CAT preparation quite a lot.
By preparing CAT, BYJU started to like doing this work and he started working in a free workshop and on seeing this, people used to pay for the workshop of BYJU classes. BYJU left the job and started doing the same work in different cities and became very popular among the people.
In 2011, BYJU did the work of reading by creating a 'Think & Learn' platform, which we later know as BYJU'S learning Program Application. Today this company is doing revenue of 28000 cr and is one of the top startups in India.
Highlights of BYJU'S classes:
BYJU'S classes by India's top teachers
You can choose your batch in this order.
Monday-Wednesday and Friday

Tuesday – Tuesday and Saturday

Saturday and Sunday.
BYJU'S classes are provided 16 Classes by Top Teachers of India (4 Classes per Week) with Live Online doubt Solutions.
BYJU's classes provide 8-classes for Mathematics and 8-classes for Science.

Book and attend additional classes to learn & revise your specific topics
Live Query Solution:
BYJU's classes have dedicated teachers assigned to each student to solve their questions and queries.

Any type of queries can be asked during the class.
Self-book learning and revision:
You will be able to make full use of the premium app of BYJU'S learning Program.

After class, you can learn and revise your lessons from BYJU'S app's videos.

After being taught in class, BYJU'S learning Program provides you with homework after every class to help modify concepts.

Get full access to unlimited practice tests on the BYJU'S Classes app, keeping in mind the focus areas of each student.

A class exam at the end of the month to assess the student's conceptual understanding

All students will also receive study material in the form of books.
BYJU'S Classes Benefits:
The concept of the master by learning from the best teachers of BYJU'S classes

Immediately clear all your doubts by BYJU'S learning Program teachers online.

BYJU'S learning Program can also get one-on-one counseling and mentoring from mentors.
So today BYJU'S classes have left a mark on their success in the field of online learning. I hope you liked the story of the BYJU'S classes.
If you want to read more similar articles or are interested in business, technology, and many other interesting topics. Then you should follow our website Headline Insider. Because we keep publishing new things here every day so that your knowledge increases with changing times