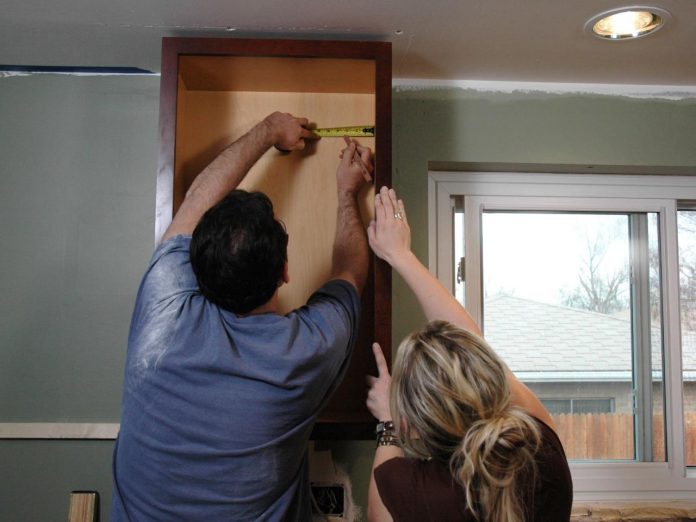 Glass cabinets are important accessories that should not lack in modern homes. They provide homeowners with storage space that keeps a home organized. Different types and designs of glass cabinets can be installed in a home for the purpose of display or storage. Depending on the size of the house they are to be installed in, they can range from the small to the larger sized cabinets. The largely sized cabinets can cover an entire wall while the small sized ones can be the size of a vanity.
Installation of the display cabinets with glass doors can be done either by a professional or by the homeowner with the help of third parties. When working on a tight budget, you can include many ideas that can help you to save on the costs you would incur if using a professional cabinet installer. Since modern homes have complex furniture layouts, one has to be careful when deciding on the position to install them. This can help in the better organization of space as well as create a conducive and elegant environment to live in.
The classy and flashy look of a modern house can be achieved by installation of stylish and trendy glass cabinets. These can be bought from stores such as fab glass and mirror among others. Cabinets for living room should be installed in strategic positions so that they act as a focal point if anything is put on display. Hiding them away from a clear view will deny the interior décor the stylish look that it should have.
If you are wondering how you can make glass cabinet installation affordable and reliable, here are tips on how you can achieve it. Let's find out more.
Buy o Hire Your Installation Tools
Installing glass cabinets in a home requires the use of the specific tools to avoid any damages. A cabinet in room that has to be installed perfectly will force the owner to buy or hire the installation tools. If you do not have the tools and you do not have enough finances to buy the tools required, you could hire them from a carpentry store near you. Buying the tools would mean that you will own them and only use them to install the cabinets. Looking at it from an open perspective, you will buy and have assets in the house that could use in the future for other cabinet installations. However, you may also be working on a tight budget that might not allow you to buy the right tools. Therefore, the best option will be to hire from the nearest shop that you can find. This means that you should come up with a side budget that will be lower than buying the actual tools for yourself. Besides, it's just a single installation that you need the tools for.
Do Not Hire a Professional Installer
Professional installers when hired to install glass cabinets in rooms or bathroom mirror cabinets in bathrooms may charge high prices depending on their experience in work. By hiring a professional, you may be prompted to pay a high cost in the long run than you had initially planned. This may strain you, and you will end up not being comfortable. Instead of hiring a professional installer, you can install the cabinets by yourself. Depending on the size of the cabinet, you can make it a DIY project. This will save you on the wages that you would pay the professional. Ideally, they could charge the installation as a whole project or depending on the number of hours that they have worked.
Look for Installation Instructions
Installing a glass display cabinet requires that you have specific instructions to avoid any errors or damages. When buying cabinets, they may come with installation instructions to guide you on what to do if you are committed to completing it as a DIY project. When in need of creating a welcoming interior in your home, you will need to find a set of instructions to help you follow instructions to the letter. Without instructions, you might do the wrong things which might make the cabinets not reliable. If you do not have instructions from the cabinet seller, you can find them online from professionals in the construction industry. Fab glass and mirror is one of the popular platforms where you can get such guidelines on how to install your glass display cabinets. With this, you will save on costs, time and make your home look stylish and inviting.
Use Help From Friends and Family.
Installing glass display cabinets in rooms alone can be overly challenging. The cabinet needs to be lifted severally so that the right positions for its installation can be marked. Without the help of another person, you might find it difficult to install. Since you want to minimize the costs incurred in the long run, you can ensure that you ask one of your family members to help you with the handling. It is unlikely that your family members or friends will charge you for helping out. However, if you feel like appreciating them with money, that is up to you to make a decision. It is evident that most people would prefer DIY projects since they are cheaper and help to keep the home modernized.
Use the Right Screws and Bolts
When installing cabinets for living room, people make the mistake of using screws that are not designed for the specific cabinets. Cabinets for rooms come with their specific screws and nuts which should be effectively utilized. For instance, if you buy a cabinet for living room, it has a specific weight and must be mounted using the right size of screws to avoid it falling off. When using the wrong screws to mount a cabinet for rooms, you may end up damaging it resulting in losses for the owner. If you want to avoid being a victim of such a situation, ensure that you use the right size of screws and nuts and the display cabinet will be safely mounted and remain in position always.