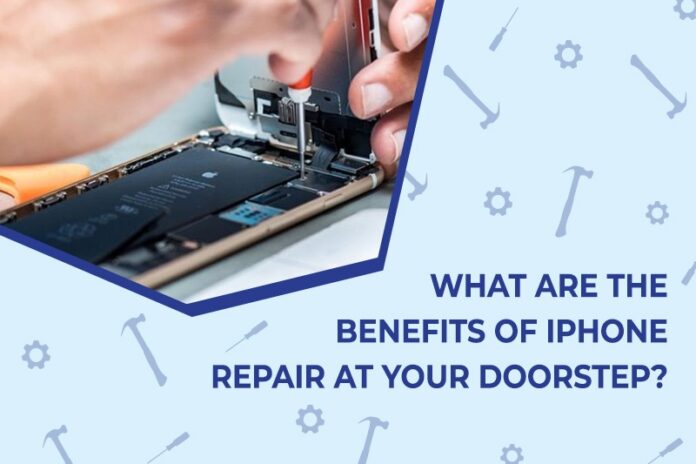 iPhones have always been the Centre of attention of businessmen and the rich due to their premium quality. These iPhones are a status symbol simply because of the much they cost, but just like other, smartphones, iPhones are susceptible to damage through accidents. Considering the price tag these premium phones come with, it's better to get your device repaired instead of buying a replacement phone.
However, iPhone repairs can be time-consuming, and driving to the repair Centre can be a hassle in your day to day life. We understand this problem, and instead of having you come over, we bring the experts to your doorstep.  
This means you can sit in the comfort of your house while our expert comes over to repair the iPhone. In most cases, the repair takes only a few hours, but the comfort of your home is not the only benefit our doorstep repairing service offers.
Major Difference to Call an Expert Over Instead of Going to Them
One of the main benefits people who call experts at their home enjoy is one of time convenience. The time of the repair is determined by the owner, saving you the trouble of driving to a repair center. Time is also saved when a doorstep service is chosen since repair centers can take a lot more time than a doorstep repair. 
Another benefit you get when you call us to your place to get the repair done is that everything happens in front of you. The process is transparent and as long as you know what you are doing, and you get to make the decisions on which methods you choose for your iPhone. This helps you remember what the problem was and if a similar situation arises to a device you know, diagnosing it will be comparatively straightforward.   
Common Occurrence Due to Accidents
There are several usual scenarios we see a lot in our iPhone repair endeavors. Some of them are:  
Dropping the iPhone from a height 
This one's a classic. Most people don't realize how little it takes for your iPhone to fall and break. The average height required for phones to get damaged is only two feet. Matters get worst when there's no case protecting the phone, further increasing the damage. Recent studies show that most of these occurrences take place in your home.  
An iPhone dropped in water
Water and electronics can have a complicated relationship. In some cases, it cools your devices; in others, it just fries and corrodes them. Devices that are not waterproof are severely affected when they go in the water. Most smartphone lives are claimed by falling in washrooms or getting spilled on from carbonated drinks. 
Infants
Smartphones also suffer a terrible fate in the hands of toddlers. Infants tend to throw or hit stuff with anything in their hand, and if your iPhone is close to the child's grasp, it might not fare well. Children don't only throw those smartphones; they love to drown them in the sink or the toilet too, so make sure your iPhones are safe from your children. 
What to Ask to Repair for Long Run of Your iPhone?
Some repairs increase the lifespan of your device significantly compared to others. One common repair in this category is battery replacement.
Batteries tend to trouble you after a year or two has passed, and unless they get replaced, they hinder your iPhone's usefulness. The problem is made worse by Apple slowing down their devices when the battery health gets low. Getting a battery repair is also a pretty cost-effective solution compared to getting a new iPhone altogether, which will add years to your iPhone. 
One another feature you might consider getting repaired is the touch screen of your device. Touchscreens are easily damaged; however, they are still cheaper to repair than buying a new iPhone. So don't replace your iPhone after your screen breaks and instead let us come over and fix it in a short amount of time.  
Common Software and Hardware Issue
Hardware issues can vary depending on how the phone got damaged. If the phone was submerged in water, then there would be water damage and similarly, if the phone was dropped then the screen would most likely be the victim. Regardless, here are the most common hardware issues we see in the iPhones we repair: 
Deteriorating batteries

Failing sensors

Cracked or broken screens

Failed charging or aux ports

Failed cameras
Hardware issues are not the only ones that can plague your phone. There are also some software related problems you can face. Getting these problems fixed will not only increase the performance of your iPhone but also increase its lifespan. Some of these are: 
IOS related problems 

Unable to update

Failed update
Serious Hardware Issue with iPhone
Some severe hardware issues do take a lot more resources to repair than other common repairs. One problem that falls in this category is a repair from water damage. Water damaged iPhones are hard to fix and usually depends upon the intensity of the damage done by water. iPhone repair costs can go pretty high when water damage is involved. However, don't worry as our diagnostic team will let you know all the details before we proceed with the repair.
How Long It Takes When It Comes to Serious Hardware Problem
Since serious hardware problems are complicated, they end up consuming more time compared to other common repairs. While most of our repairs are completed within a short amount of time, severe hardware problems can take up to 2-3 days. 
Warranty of iPhone Repair and Further Repairs
Once you get your iPhone repaired by us, you get a warranty on all the parts that were replaced. This gives you peace of mind that quality parts were used during the repair and if any of those parts fail, you can come to us, and we will cover it under warranty, provided the warranty period has not expired.