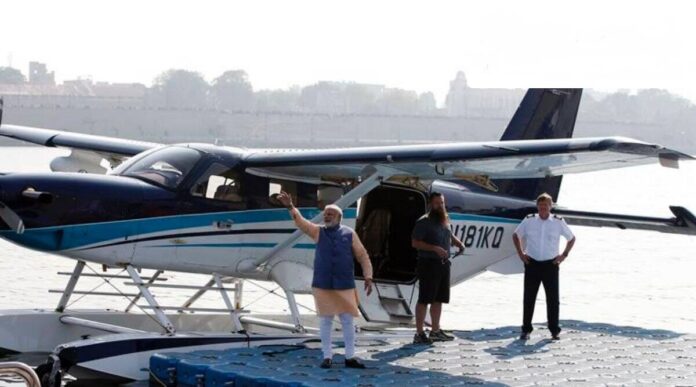 PM Narendra Modi Launch Seaplane Flight Service, Gujarat, Rent, Time, Price, Ahmedabad Booking, Cost, Capacity, Speed, Timing, Andaman, Kerala, and the Maldives?
The Udaan scheme was launched by a few years ago by the prime minister narendra modi Government of India, under which different types of airlines are provided to the people. Seaplane domestic flights service is being started under PM Modi scheme. This will start in the state of Gujarat. It will run between the huge statue of Sardar Vallabhbhai Patel, called the Statue of Unity, through the Sabarmati Riverfront in Ahmedabad. So what is seaplane service? When will it start and what are its features. You can see all this in our article. So let's know about Seaplane Services.
What is Seaplane Flight Service?
Seaplane flight service is an domestic flights service initiated by the PM narendra modi. This is starting from the Sabarmati riverfront on the day of National Unity Day between the Statue of Unity.
Details of PM Narendra Modi Seaplane Service

Name

Seaplane Service

Launch

October 2020

The beginning government

Vallabhbhai Patel Jayanti

Started by

Ministry of Shipping

Where will it start

Gujarat
Operations

Spice Shuttle Company

Total Price

3000 Rs. (both ways)

Related Plan

Flight Plan

Capacity

15-Seater

Speed

104 knots
Cost of Seaplane Flight Ticket Booking Service:
The total fare of the Seaplane flight ticket booking service will be Rs 3000, which is a combination of going and coming, ie, the one-way fare for this ticket booking service will be Rs 1500. To get SeaPlane flight service, you have to book tickets in advance. Ticket booking is starting a day before online. These flights of SpiceJet will have 15 seats.
PM Narendra Modi Seaplane Flight Time:
Seaplane flight service is starting on the birth anniversary of Sardar Vallabhbhai Patel. The route of this flight is from the Sabarmati riverfront of Ahmedabad to the huge statue of Sardar Vallabhbhai Patel called the Statue of Unity. Seaplane flight services running from Ahmedabad to Kevadia will make 2-trips in a day. The flight will start from the riverfront of Sabarmati at 10:15 am, reaching the Statue of Unity at 10:45 am. This is located in Kevadia. Then it will fly from Kevadiya from 11:45 to reach Ahmedabad at 12:15. In this way, one of its rounds will be complete. The second round will start at 12:45, reach Kevadia at 1:15 and then fly from there at 3:15 and reach Ahmedabad at 3:45. That means its journey will take half an hour in total.
Regional Connectivity:
The introduction of this type of service in India is one of the most notable events as it is the first time in the history of India. This service will give a lot of boost to the tourism sector, as it will give them a great experience. In our country, many challenges are faced in the form of structures for starting air services to small cities and towns. In such a situation, starting such a service on a small water body is a big step.
Features and Benefits of PM Modi Seaplane:
Spice is the shuttle company operating the Seaplane flight ticket booking service. This is a wholly-owned subsidiary of SpiceJet.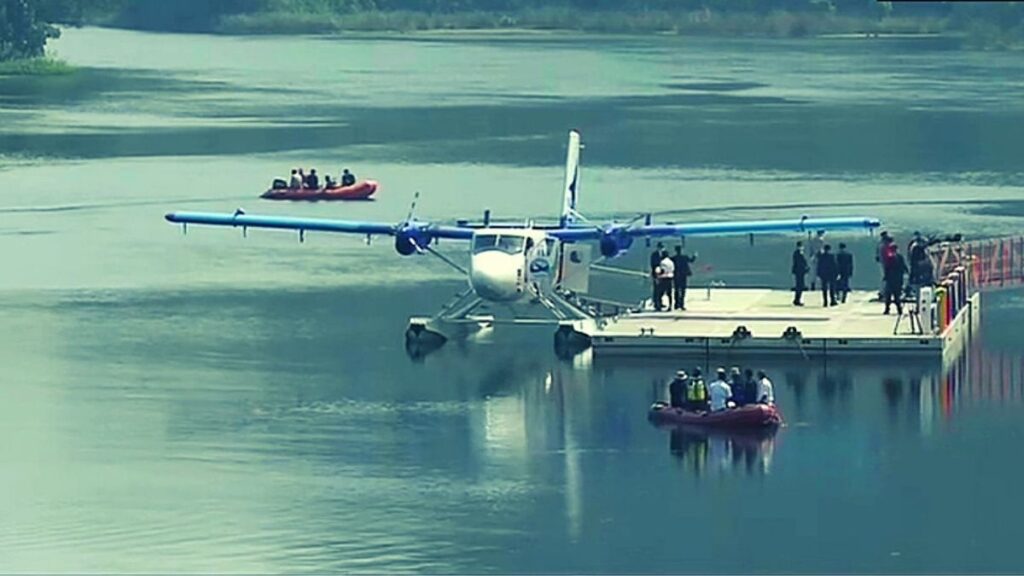 Twin Otter 300 types of aircraft have been used in it, which is the safest and popular seaplane air travel main and safe means of transport. The safety, maintenance, and commitment of such aircraft have been ensured so that flights can be secured. Such aircraft are one of the most popular aircraft worldwide.
Seaplane is built in the Maldives. And it is from that. The special feature of this aircraft is that it is famous for its reliability, robustness, short take-off landing capabilities, payload capability, and accidental external visibility. Maintenance, seat renewal, etc. of this aircraft are done regularly. For this, they are also given a valid Airworthiness Review Certificate (ARC).
The Twin Otter 300 used in it has an accident-free history. And hence its demand is highest in the whole world.
Before the start of the PM Modi seaplane, it has also been tried in Nagpur, Guwahati, and Mumbai. First land testing has been done in Nagpur and Guwahati. But after this, both land and water testing have been done at Girgaon Chowpatty in Mumbai.
There are many remote areas around the world where the lack of an airport and providing air connectivity has been the biggest obstacle. In this case, the seaplane can prove to be very helpful.
The seaplane flight can take off in the water. Therefore, Seaplane service can be easily reached in a place where there is no runway for landing. Even these aircraft can land not only in water but also in gravel and grass.
They can also be on the landing of the aircraft, so it will save the cost of constructing a big airport or runway. And remote areas located in India, where runway and airport facilities are very difficult to reach. It can be most helpful there.
They can also land on waterways such as lakes, backwaters, and dams. Due to this, it can be easily started in various tourist areas.
There are 18 such areas in the country where seaplane domestic flight service can start. These areas include Ahmedabad – Kevadia, Agatti – Minicoy, Agatti – Kavatti as well as more coastal areas like North East, Uttarakhand, Uttar Pradesh, Andhra Pradesh, Rajasthan, Maharashtra, Andaman, Lakshadweep, which are being evaluated.
In this way, airline flight ticket booking online service is developing in our country. The PM Narendra Modi introduce of Seaplane flight service will give a boost to the tourism sector in our country. It is expected that it will start in many areas of the country at the earliest.
Happy Blogging! Remember, the basis of a good article is good research.