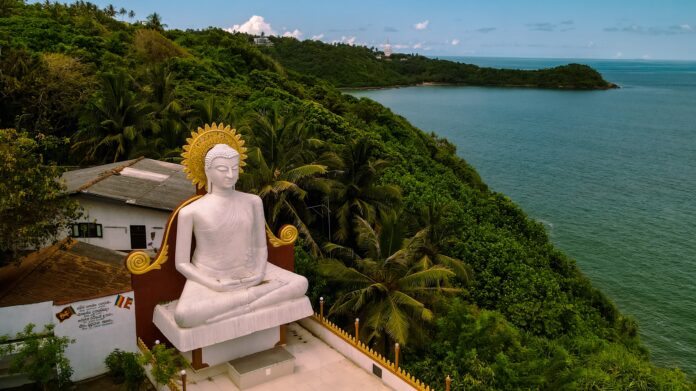 Sri Lanka Visa for Indians – Have you ever dreamed of visiting a tropical paradise? Picture this: golden beaches, lush tea plantations, mesmerizing gemstones, thrilling wildlife safaris, adventure sports, and UNESCO World Heritage Sites. All of this and more await you in Sri Lanka, a beautiful island nation located in the Indian Ocean, just south of India. Sri Lanka's unique teardrop shape has earned it the nickname the "teardrop of India."
Sri Lanka is a treasure trove of experiences for all kinds of travelers. From relaxing on stunning beaches to exploring the turquoise blue ocean, from visiting magnificent temples to discovering diverse landscapes and wildlife sanctuaries, it's a destination like no other. And let's not forget the incredible food! You can savor the flavors of Koththu roti, String Hopper, Puttu, Kiribati, and don't leave without trying Tambala juice, a refreshing drink made from King Coconuts.
But before you pack your bags and get ready for your adventure, there's an important step to consider: getting your visa. For Sri Lanka, you need to obtain a visa before you travel. The good news is, with the introduction of e-Visa facilities by the Immigration & Checkpoints Authority (ICA), applying for your visa has never been easier or faster.
Also Read: Comprehensive Guide To Australia Visa For Indian Tourists
So, if you're wondering how to make your travel dreams come true, get your visa for Sri Lanka, and learn about all the aspects of Sri Lanka travel and tourism, keep reading, and we'll guide you through the process in easy-to-understand terms.
Why You Need a Sri Lanka Visa
A visa is like your passport to explore and enjoy the beauty of another country. It's an official document issued by a foreign government that allows you to enter their country for a specific period and purpose. For Sri Lanka, you need a tourist visa that allows you to travel, explore, and experience the wonders of this island nation.
Also Read: 10 Tips You Can Use To Save Money When You Send Money Abroad
The Sri Lanka E-Visa Advantage
Applying for a visa used to be a time-consuming and complicated process. It often involved visiting an embassy or consulate, filling out paperwork, and waiting for approval. But now, with e-Visa facilities, the process is much simpler and more convenient. Here's why e-Visa is the way to go:
Srilanka Travel and Tourism Speedy Application
Traditional visa applications could take weeks or even months to process. But with e-Visa, the average turnaround time is just 24-48 hours. You can apply online and receive your visa in no time.
Sri Lanka Visa Easy Application
No more gathering piles of physical documents and photographs. With e-Visa, you can complete the application process online. All you need is a few essential documents, and you're good to go.
Also Read: Unlocking Hassle-Free and Cost-Effective International Money Transfers
Srilanka Tour Convenient and Secure
E-Visas are linked to your passport electronically. You don't need to worry about physically inserting them into your passport like traditional visas. It's all done electronically, making it secure and hassle-free.
How to Apply for Your Sri Lanka Visa
Getting your Sri Lanka tourist visa is now a breeze, thanks to the e-Visa system. Here's a step-by-step guide on how to apply:
Visit Sri Lanka Visa Online Expert Service
Start your journey by visiting one of the online visa expert services. These are platforms designed to make your visa application process smooth and hassle-free.
Also Read: Unlocking the Best Currency Exchange Rates
Download Sri Lanka Visa Application Form
Once you're on the website, you can download the visa application form. This form contains all the necessary fields you need to fill out.
Fill Out Sri Lanka Tourist Visa Form
Fill out the form with your details, including your name, contact information, passport details, and the purpose of your visit. Make sure to provide accurate and complete information.
Upload Necessary Documents
You'll be asked to upload scanned copies of required documents. These typically include a copy of your passport's first and last pages, a passport-size photograph, and the duly filled and signed Sri Lanka visa form.
Make Sri Lanka Visa Online Payment
Complete the application by making an online payment. The cost is usually reasonable, around Rs 2000 to 3000, and your visa will typically have a validity of 30 days.
Also Read: Unlocking the Best Currency Exchange Rates
Benefits of E-Visa for Indians
E-Visa facilities have revolutionized the way we apply for visas. Here are some of the key advantages:
Quick and Convenient
Applying for visas online is much quicker and more convenient compared to the traditional method of mailing applications or visiting embassies.
No More Waiting
Gone are the days of waiting for weeks for visa approval. With e-Visa, you can have your visa in as little as 24-48 hours.
Secure and Electronic
E-Visas are electronically linked to your passport, so there's no need for physical insertion. It's all done digitally, making it secure and efficient.
Sri Lanka Visa for Indians
If you're an Indian traveler, the process for obtaining a Sri Lanka visa is particularly important. Thankfully, e-Visa facilities make it a seamless experience for Indian travelers. You can follow the same steps outlined above to apply for your Sri Lanka tourist visa. The process is the same, and you'll enjoy the same advantages of speed and convenience.
Sri Lanka Visa Online
Applying for your Sri Lanka visa is now easier than ever. With the online application process, you can complete all the necessary steps from the comfort of your own home. No need to visit embassies or consulate offices, no more waiting in long lines, and no more dealing with physical documents. The online process is quick, efficient, and user-friendly.
Also Read: 5 Money Saving Tips for Your Next Overseas Vacation
Explore Sri Lanka's Tourism and Tour Opportunities
Sri Lanka is a dream destination for travelers. With its rich cultural heritage, stunning natural beauty, and diverse experiences, it has something for everyone. Whether you're a history enthusiast, an adventure seeker, a nature lover, or a foodie, Sri Lanka offers a wide range of activities and attractions.
Sri Lanka Travel and Tourism
As you explore Sri Lanka, you'll discover a world of experiences. Visit ancient cities with well-preserved ruins and marvel at the grandeur of temples and palaces. Embark on a wildlife safari in one of the country's national parks and witness elephants, leopards, and a variety of bird species. Explore the lush tea plantations in the central highlands and enjoy a guided tour of a tea factory. Sri Lanka is also a paradise for beach lovers, with pristine coastal stretches perfect for relaxation and water sports.
Sri Lanka Tours
To make the most of your trip, consider joining a Sri Lanka tour. These tours are designed to provide you with a comprehensive and hassle-free experience. You can choose from various themes, such as cultural tours, wildlife safaris, adventure tours, and more. With a guided tour, you'll have an expert leading the way, ensuring you don't miss out on any of the country's hidden gems.
Start Your Sri Lanka Adventure
With e-Visa facilities, you can apply for your Sri Lanka visa online, from the comfort of your own home. No more tedious processes, no more physical documents, and no more waiting in long queues. Technology has made life more organized and time-saving, allowing you to focus on the most important part of your journey: enjoying the adventure.
So, what are you waiting for?