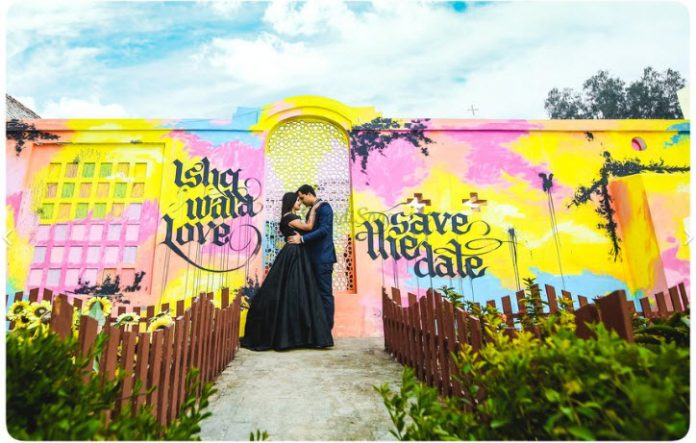 Are you and your partner getting married within a few months? If you are planning for a pre-wedding photoshoot, do not forget to include "save the date" in your photoshoot. Save the date has become an extremely popular trend for pre-wedding photography all over the world.
It is a fantastic way to add excitement to your wedding. Take a good look at these 7 amazing 'save the date' message idea.
1. Write save the date message on the balloons:
Balloons are really colourful and fun! So, it would be a good idea to use balloons in your couple photoshoot. Purchase a bunch of colourful balloons of your choice and then write save the date message over those balloons. This idea is quite simple to execute and it will look great too.
2. Your cute pet with save the date message:
Your pet is a part of your family. So, it would be really sweet if the adorable puppy or kitty invites your guests on behalf of you. The photo will look incredibly sweet and fun. In order to shoot this photo, you need to bring your pet for the photoshoot and let the pet pick up and show the message written on a paper.
3. Colour the wall with save the date idea:
It can be considered as one of the coolest ideas for save the date message.
Paint a wall by writing save the date on that wall with your favourite colour.
Choose a white coloured wall if possible and then pick up any bright colour for writing the message. Red and deep pink colours would be ideal for writing the message on a white wall. Other than red or pink, you can use your favourite colour if you want to make the photo even more special.
4. Write the message on the chalkboard:
There are many elegant and colourful chalkboards available in the market nowadays. Write save the date message on a colourful chalkboard. This is one of the most popular ideas for save the date If you do not want to choose a colourful chalkboard, go for a regular one. It will definitely bring your childhood memories back!
5. Engrave the save the date message over spoons:
If your hobby is cooking, you can choose this interesting idea. It will reflect one aspect of your personality. Thus, this photo will become even more special for you.
Purchase a few vintage spoons from the market and then get save the date message engraved on those spoons. This one is a really innovative and unique idea for couple photography.
6. Write your save the date message on coffee mugs:
Do you love coffee? After all, there nothing more comforting and interesting than having conversations over coffee.
If you are one of them, incorporate coffee mugs in your creative couple photography.
Buy a beautiful white coffee mug from the market. Then write save the date message and the date of your wedding on that coffee mug using a black, red or a blue marker pen.
The idea will become even more suitable for you if you and partner love to go on coffee dates. Whenever you will see the coffee mug picture, you will be reminded of your romantic coffee dates.
7. Create a movie poster save the date written on it:
The movie poster photo idea is totally fun! Pick up an upcoming movie, create a poster of that movie and use both of your faces in the poster. It would be better if you select a romantic movie for your poster. Write both save the date message and your wedding date on the poster.
You can create a poster of your favourite romantic movie. You can pick up an old movie instead of an upcoming one if you want.
Choose the one which you think will suit your personality. Many people like to follow the trend. Even though there is nothing wrong about following the trend, it is better to follow the heart. Go for the idea you prefer rather than the trend.