The increasing number of vehicles on the Indian road results in more traffic jams and accidents, and this is exactly why you need an effective car insurance policy. The policy is mandatory for every vehicle plying on the Indian road, and if you drive your car without insurance, you might land into legal troubles! While now we are aware that having car insurance is a must, let's understand how your car insurance premiums are affected, and especially by vehicle fuel type.
What are the Factors that affect car insurance premiums?
Well, the premium of your car insurance is not just a random number decided by your insurer; it involves a lot of complex calculations! It counts a number of factors, and being aware of these factors would help you to make a better choice when buying or renewing car insurance online. Some of the common factors are:
Gender and Age of Driver
Past Driving History: Insurance Company considers your past track of violations or major accidents.
Marital Status and Location (urban areas have more claims in comparison to rural areas)
Cubic Capacity of Car Engine
Age of the vehicle, make, model and variant of the car
Fuel Type – Petrol, diesel or CNG/LPG
So, How Vehicle Fuel Type Affects Car Insurance Premiums?
Until recently, you either used to drive a petrol one or a diesel one, right? But now we have entered into the electric, hybrid age and the number of vehicles is growing, but this article focuses on how your choice of vehicle fuel type can impact or affects your overall car insurance premiums.  As much as the other factors impact your car insurance premiums, the vehicle fuel type matters as well.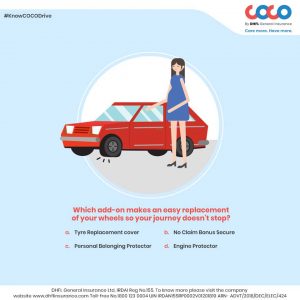 You would often find this debate like, on which fuel type is really ergonomically best for a vehicle in the long run, or some auto experts suggesting to spend some money in maintenance of your car. But what people are not aware of the fact is how the type of fuel used in your vehicle impacts on the overall car insurance premium. Well, there are several factors when it comes to calculating your car insurance premiums, but people often overlook the fuel type factor.  If you would dig a little bit deeper, you would know that the car insurance premium for a petrol variant is less than that for a diesel or a CNG fitted car.
So, depending on the fuel type of your car, i.e. whether it is CNG, Petrol or diesel, the premiums widely vary.  It affects your car insurance premiums! In comparison to diesel, LPG and CNG installed kit, petrol cars are considered to be at the least risk. Since we all know that the costs of petrol cars are comparatively lower than diesel, hence the premium too! Why? There are some parts of diesel cars which are more expensive than the petrol one, this also increases the overall cost of your car insurance premiums.
Higher the cost of your car, higher would be the car insurance premium! So, accordingly it would be the highest for a diesel car. Why? Because the diesel cars are expensive and are driven for longer distance, and on the other hand, the CNG/LPG fitted ones comes with high installation cost, which needs high maintenance. Diesel, CNG and LPG variant cars are usually high usage vehicles and therefore the chances of an accident involving them are high. The premium is also therefore higher in comparison to petrol one.
So, if you are planning to install a CNG or a LPG kit in your car, you ought to be conscious of the insurance regulations that are required to be followed in order to upgrade your car insurance policy. However, if you plan to take a separate CNG/LPG kit, the insurance cost would be as per the petrol variant, and the overall difference in your car insurance premium would be minimal.
For an example, let's say you installed a good quality CNG kit in your car that costs INR 60,000. Now assuming your insurer can ask for some percent of the CNG kit value, because CNG cars are considered to be riskier by the insurance companies. Usually, the premium ranges typically 3-5% of your CNG kit Value. You have to shell out an additional charge towards the liability cover for your CNG car, and hence the overall premium shoots.
Process
Once you fit the LPG or CNG kit in your car, you have to inform and intimidate to your insurer properly in writing immediately. Once, it gets done or endorsed in the RC of your vehicle, the insurer conducts an inspection and the difference in the overall premium is collected post approval from them. If you fail to intimidate to your insurer about the change in the fuel type of your car, your claim may reject in future.
So, if you drive a lot, exchanging your petrol car for a diesel, CNG or LPG may sound sensible to save some money on fuel. Most of financial gurus aka auto experts suggest that getting  a CNG kit install in your car at a later stage can be a wise thought, as it would not only be easy on your pocket, but also environment friendly too.
Hope the information regarding impact of fuel type on car insurance premiums has served the purpose. Happy Driving!